Hunza Spring Blossom Tour
A perfect trip for those enthusiasts of Nature and adventure lovers takes you to the Northern Areas of Pakistan. The colorful spring Blossom starts in March and April in the Gilgit, an important historic town on the Ancient Silk Road and the Former princely States of Hunza and Nagar valleys in the Northern Areas of Pakistan.
Drive through the Karakoram Highway," the Eighth Wonder of the World" snakes through the Great Mountain Ranges of the World The Himalayas, Karakoram and Hindukush under the shadow of Nanga Parbat (8125 meters) and Rakaposhi (7788 meters) and many countless of above 7000 and 6000 meters peaks up to the Khunjrab Pass (4733 meters) the highest medaled road that connects to China.
We visit the ruins of excavated city of Taxila, dates back to 6th century BC to 7th century Ad, an important archeological and historical center of ancient Gandhara civilization. We also visit the ancient Buddhist Rock carvings at Shatial, Chilas and 7th century Ad Buddha Rock Carving in Gilgit, the most important city of the ancient Silk Road.
Drive through the lush green mountain villages and snow covered peaks to the beautiful Hunza and Nagar valley, explore the secrets of longevity of its peoples and visit the 700 years old Baltit and Altit Forts, centuries old Altit and Ganesh villages and 4th century Ad Rock carvings on the ancient Silk Road.
Day 1: Islamabad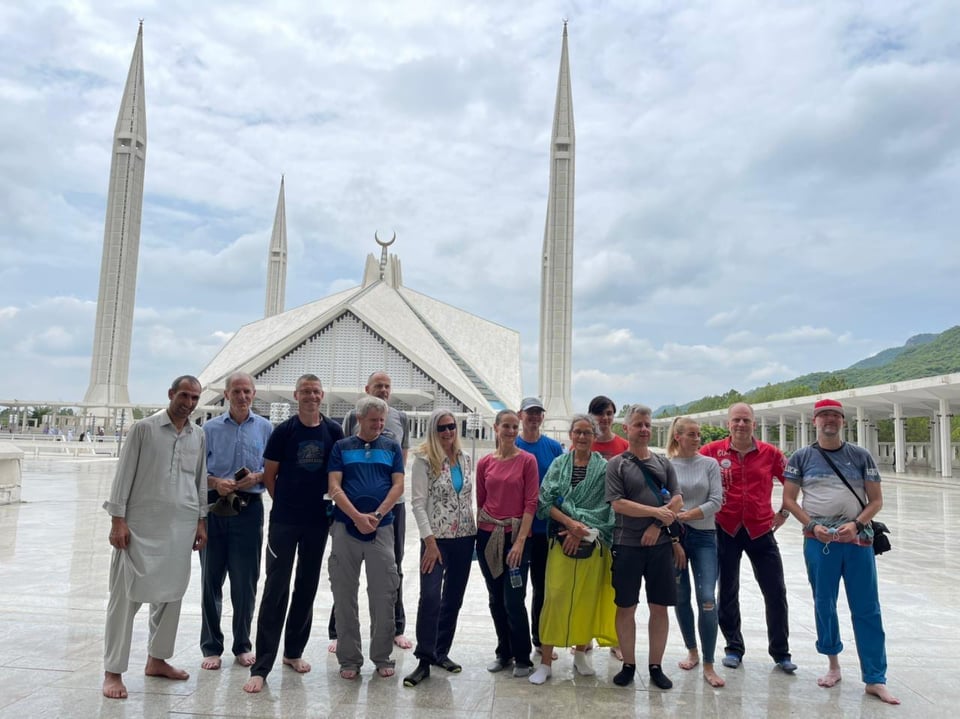 Arrive at Islamabad international airport, greet and transfer to hotel for overnight.
Day 2: Islamabad-Chilas
Early breakfast at hotel and leave for Chilas via Grand Trunk road, Taxila, Hussanabdal, Abbottabad, Mansehra, Thakot, Besham Lunch at Besham and then Journey base on Karakorum Highway 8<sup>th</sup> wonder of the world along the mighty Indus River through remote valleys of Kohistan on arrival at Chilas transfer to hotel for Dinner and overnight.
Day 3: Chilas-Karimabad
Breakfast at Hotel Drive to Karimabad en-route stop at Thalichi to see three beautiful mountains Nanga Parbat (8125M), Rakaposhi (7788M) and Haramosh (7409 M) next stop will at Jaglot Junction point of three mighty mountains ranges the Karakorum, the Himalayas and Hindukush later proceed to Nagar on Lunch at Rakaposhi view point  then proceed to Karimabad.
Day 4: Karimabad-Duiker
Morning excursion to Hopper valley, visit Hopper glacier and Hopper valley, drive back to Karimabad lunch and visit 700 years old Baltit Fort, Karimabad Bazaar and 900 years old Altit fort and Village , later proceed to Duiker to see the five mountains over 7000M , including Rakaposhi (7788M), Diran 7265M, Ulter 7388M, Golden Peak (7028M) village and Mulobiating 7459M enjoy sun set on the mountains , dinner and overnight at Hotel
Day 5: Duiker-Khunjerab Pass-Passu
Excursion to Khunjerab Pass (Pak/China Border), evening drive back to Passu. Khunjerab Pass elevation 4,733m is a high mountain pass in the Karakoram Mountains in a strategic position on the northern border of Pakistan's Gilgit-Baltistan region and on the southwest border of the Xinjiang region of China. Its name is derived from Wakhi 'Khun' means Home and 'Jerav' means spring water/water falling. The Khunjerab Pass is the highest paved international border crossing in the world and the highest point on the Karakoram Highway. The road way across the pass was completed in 1982, and has superseded the unpaved Mintaka and Kilik Passes as the primary passage across the Karakoram.
Days 6: Passu-Gilgit-Chilas
Morning breakfast at hotel and drive Chilas en-route visit to Hussain valley to see beautiful blossom flower and suspension bridge , boating at Abbottabad lake, After boating proceed to Gilgit city, a little shopping if clients want, lunch and drive to Chilas en-route visit Chilas rock carving century from 6th to 8th AD. Dinner and overnight at Chilas.
Day 7: Chilas-Besham-Abbottabad
Morning drive to Abbottabad on Karakoram highway en-route Besham on arrive Besham Lunch and proceed to Abbottabad for overnight.
Day 8: Abbottabad-Islamabad-Fly Out
Early breakfast at hotel and drive to Islamabad via ancient city Taxila , visit Taxila museum best collection of Gandhara, Julian Buddhist Monastery from 2nd to 5th century AD world heritage later proceed to Islamabad visit Faisal Mosque, Lunch, Shopping evening dinner and transfer to Airport for fly out.
By now you are probably quite familiar with the adventures encompassing the mountain ranges and valleys of the North. Now we are about to take you a little back in time on a trip that will inform you about the ancient people that inhabited this region…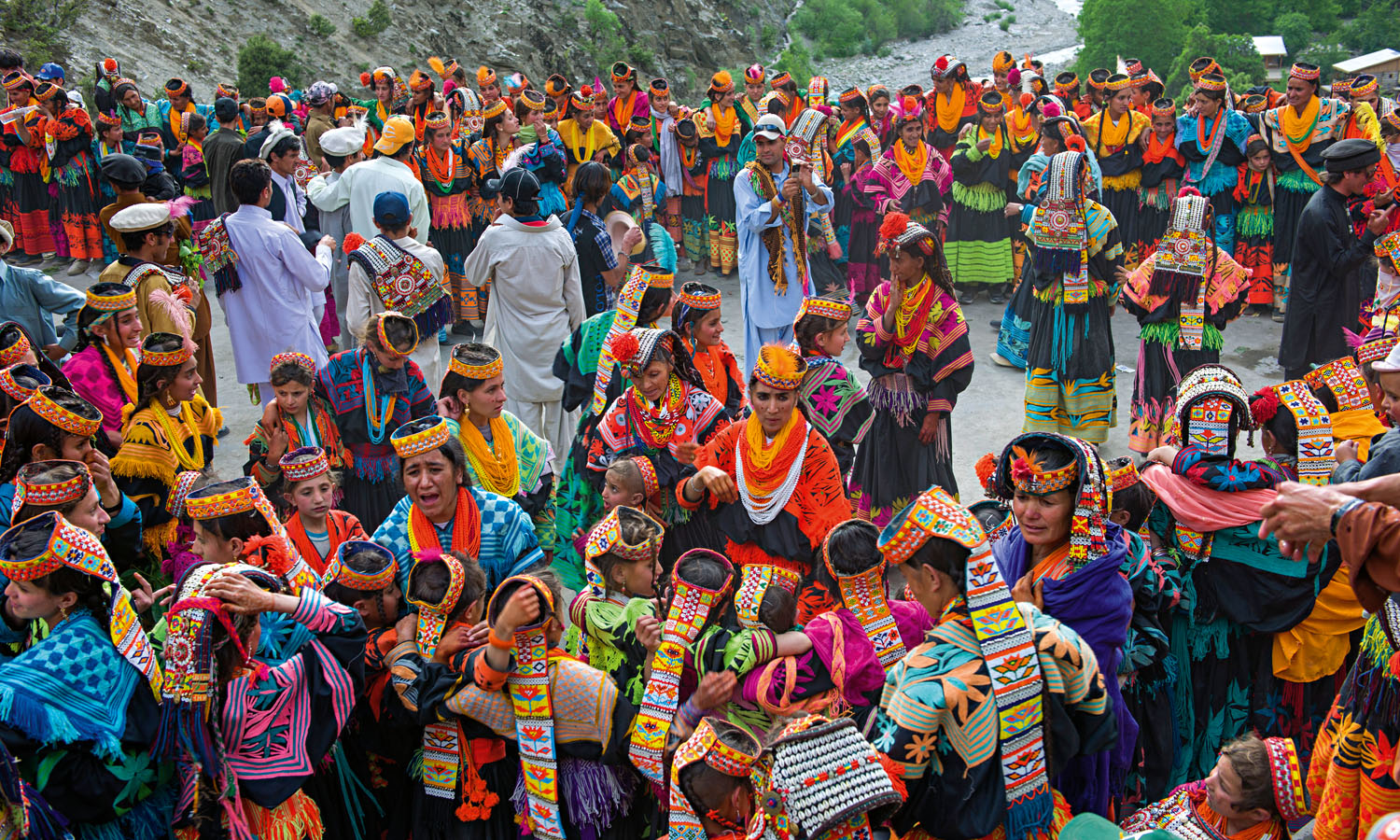 Chilam Joshi Festival is one the most vital Kalash festivals in Pakistan.  Kalash Festival is also known as Kalash spring festival.
LAHORE – the city of Mughals and the heart of Pakistan's culture lies in the 2000 years old .it is the city of gardens and flowers, city of music, arts and festivals, and of course city of Mughal architecture.