Hotels, Transport and Flight Bookings
Our Services
Nanga Parbat Adventure, is partner with  has built strong partnerships with a host of service providers in the country. We have brought them to a single platform to deliver the best services for visitors coming to Pakistan. We make travel arrangements, book accommodations and help plan the trip for visitors, making their stay in Pakistan a truly memorable experience. 
We recently modernized our businesses and established closer relationships with international tour operators to provide better services to customers. More than 95% of our business comes from foreign visitors, tour groups and holiday makers who visit the country for exploration, pleasure, an adventure holiday or to attend seasonal festivals. 
We work with air, rail and car travel companies as well as hotels, restaurants and equipment suppliers to ensure that we offer our clients the best products and services. Some of the services that we offer mentioned as under.
Travel Arrangement:
Planning a foreign trip can be quite challenging specially if you never been to your destination before. It can take a lot of time to search for the right place to get tickets. You may end up paying more than you need to.
NPA completely takes the trouble out of planning a trip to Pakistan. We can make all the travel arrangements for clients where they need not worry about tickets and focus on their vacation.
Air travel within Pakistan:
If you are interested to have only domestic air ticket you can get it with one call and our staff with inform you the timing and itinerary of your air travel. 
All kind of Accommodation:
We have partnerships with a large number of hotels and lodgings all over in the countries, starting from 5 start to the local host in Gilgit Baltistan region, to give the feeling for our valued clients to experience while there stay in Pakistan. 
Getting Around
A trip doesn't end when you get to your hotel. It is only the beginning of the sightseeing and amazing tour that you have planned!
Whether you are visiting for a local cultural festival, sightseeing, countryside trekking, exploration or corporate holidays, you can count on us to take care of the transport service.
Transpotation services
NPA offers all kind  of transport for with and with out drivers. We provide our customers with car rentals and coach booking services that make it easier for them to travel around without paying exorbitant rates to taxi drivers and car rental companies.
We can book regular or luxury car travel and also book a coach for visitors to help them travel to remote locations. Services are provided for singles, couples and group travel, based on client requirements.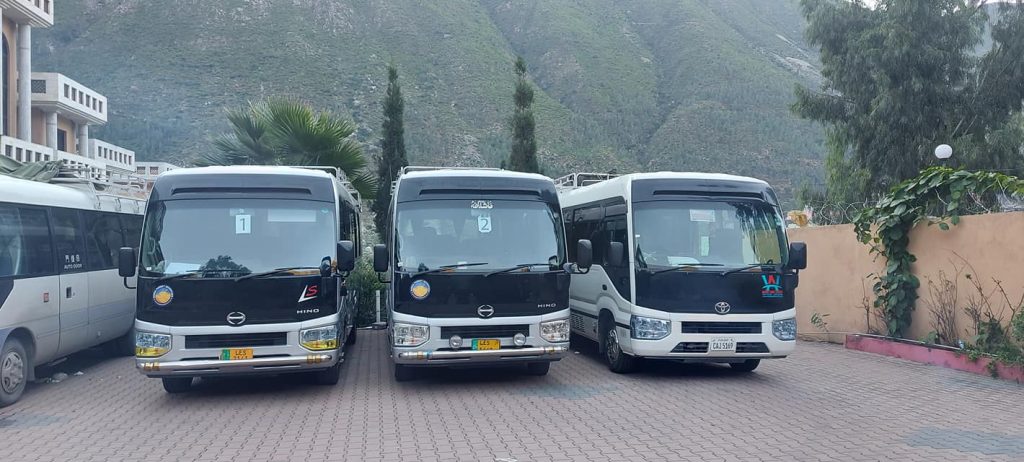 Local Tour Guides
One of our biggest strength is the wide network of skilled local guides and tour assistants that we work with throughout the country. Our guides are capable of speaking major foreign languages including English, French, German, & Chinese among others.
We only select local guides from each area who are aware of important landmarks, markets and know how to move around. Our travel guides help tourists reach their destination or go sightseeing with complete safety and trust. 
Trekking Equipment and Gears

We work with a number of sports equipment and gear companies to offer the latest in mountaineering and trekking gear for adventurers and explorers. The equipment we provide is tested and manufactured by recognized brands and is suitable professional grade trekking and mountain climbing.
Some of brands we use are Salewa, La Sportiva  The North Face, Mountain Hardware, Fjjal & Red fox North Land and many others in our stores.