Rakaposhi 7788m Expedition
Rakaposhi, is one of the most magnificent peak found in the world today. It is situated near the town of Gilgit and with a height of 7,788m/25,551ft it is easily climbable from all sides. The peak dominates the horizon and is constantly visible from the Karakoram Highway. It looks so beautiful that at first glance inspires charm and lures an onlooker to be in its abode. Accessing the peak is quite easy, which only adds to its attraction. The peak is surrounded by famous glaciers/valleys like Barpu, Biro, Bagrot and Pisan. In 1892, a large expedition of W.M. Conway, a British traveler and mountaineer explored the Barpu valley. The party also explored the nearby Bagrot valley. In order to visit the valley, Conway had to travel from Srinagar to Gilgit over Burzil pass. In those days this was the only identified and permissible route to enter the area.
Day 1: Islamabad
Transfer to hotel. Made necessary arrangements
Day 2: Islamabad
Briefing at Ministry of Tourism
Day 3: Chilas
Drive to Chilas. Transfer to hotel for overnight
Day 4: Gilgit
Drive to Gilgit. Overnight at hotel
Days 5 - 7: Juglot Village
Jeep drive to Jaglot Village. 3 Day Trek to Rakaposhi
Day 39 - 41: Juglot Village
Trek back to Juglot Village. Later Jeep drive to Gilgit. Overnight at hotel.
Days 42: Chilas
Drive to Chilas. Overnight at hotel.
Day 43: Islamabad
Drive to Islamabad. Transfer to hotel for overnight
Day 44: Islamabad
Debriefing at Ministry of Tourism. Overnight at hotel
Please Note:
The above itinerary is not a fixed programme but is intended to give an indication of the likely events during the expedition. Please note that because of the nature of mountaineering on 8,000m peaks, it will be necessary to have a flexible plan in order to take the best advantage of situations as they present themselves. Any changes to the itinerary will be made with a view to maximizing the benefit to the team members and of ensuring their eventual success on the mountain.
Mustagh Ata (7,546m, 24,750ft) lies in western China, about 25 km east of Tajikstan and about 75 km north of Pakistan. It was attempted in 1947 by the famous British climbers Shipton and Tilman who turned back only…
Great Trango Tower is one of the most spectacular granite towers in the world; a dream come true for ardent rock climbers. We climb a very straight forward and technically moderate route up the north face from our base camp on the Dunge Glacier.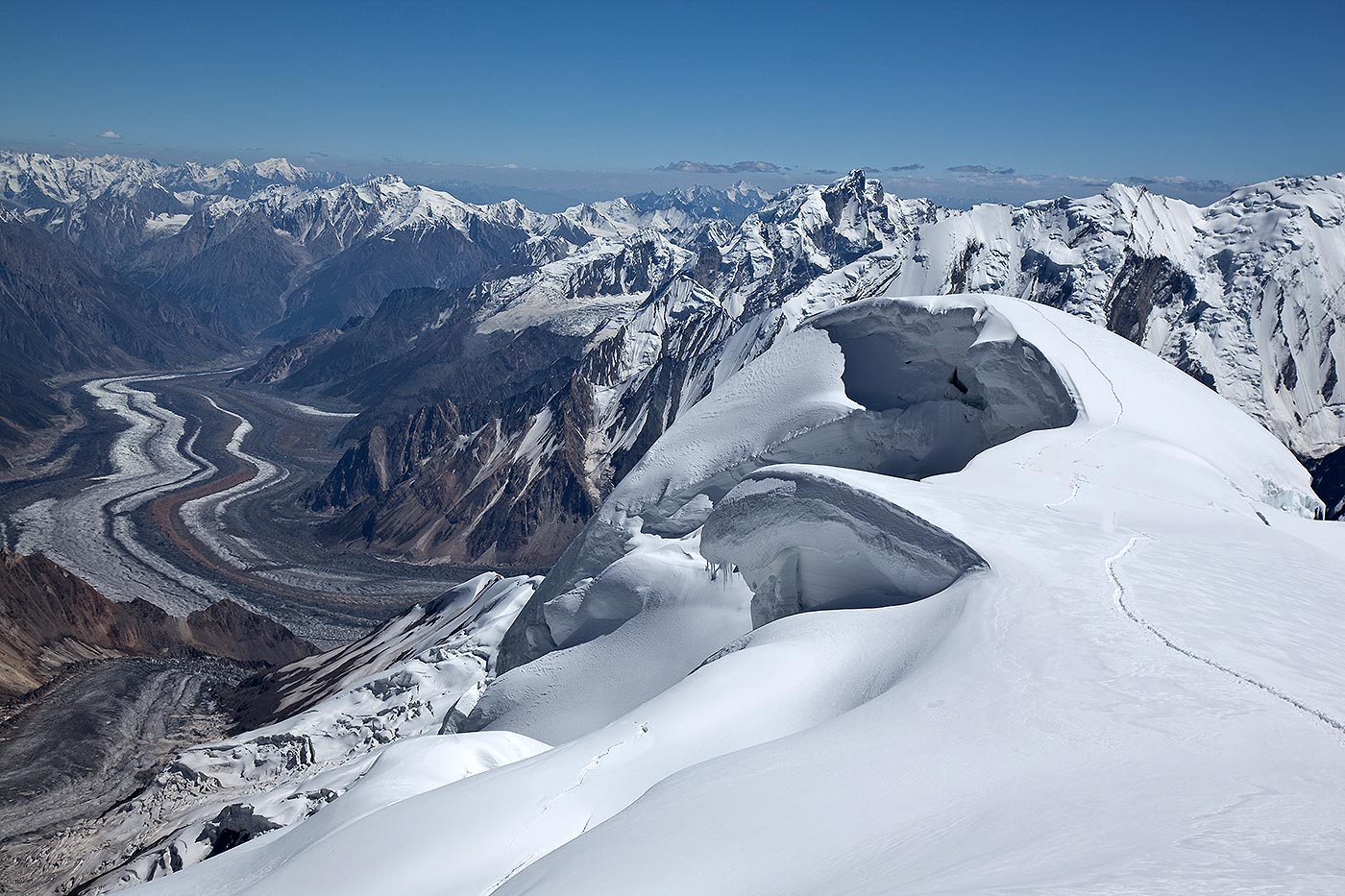 Spantik Peak has 2 different climbing routes. Alexander Klenov and Mikhail Davy climbed the first section of the pillar along the English route and then continued via a new line which required 11 bivouacs overall.