K2 is located on the border of Pakistan and China. Being the second highest mountain in the world, it is thought by many climbers to be the ultimate climbing challenge. The giant Pyramid Peak towers in isolation 12,000 feet above the wide Concordia glacial field at the head of the Baltoro Glacier. The sheer icy summit is flanked by six equally steep ridges. Each of its faces presents a maze of precipices and overhangs. K2 was long considered to be impossible to climb. Attempts in 1902, 1909, 1934, 1938, 1939 and 1953 had all but failed.
The first successful ascent in 1954 started with over 500 porters, 11 climbers, and six scientists. One of the climbers died of pneumonia after 40 days of raging storms. The final ascent was made by a team of two after their oxygen supply had run out, and an emergency descent was made in darkness.
K2 is the only major mountain in the world which has surveyor's notation as its common name (K stands for Karakoram, 2 means it was the second peak listed). T.G. Montgomery was the surveyor who assigned K-2 this designation in 1856. The mountain's remoteness had rendered it invisible from any inhabited place, so apart from an occasional local reference as Chogori (meaning Great Mountain), it had no other name prior to Montgomery's survey. Since that time, the name Mount Godwin-Austen has occasionally been used in honor of the man who directed the survey. For the most part, K2 has been the name of choice and has even evolved into Ketu, the name used by the Balti people who act as porters in the region.
With respect to the commentary on the Italian expedition which was the first to summit K2 8611m in 1954, it has since been proven that Compagnoni and Lacedelli did indeed have oxygen until they reached the summit of K2. The myth was dispelled through libel proceedings brought on by climber Walter Bonatti, who had been accused of sabotaging the expedition by keeping the oxygen for himself. The best evidence available in a properly translated format can be found in the latest edition of "The Mountains of My Life" by Bonatti, or the short book entitled "Trial on K2".
K-2 More Information:
| | | | |
| --- | --- | --- | --- |
| Other Names/Spellings | | | Mount Godwin-Austen Chogori |
| Elevation (feet) | | | 28,250 |
| Elevation (meters) | | | 8,611 |
| Location | | | Karakoram China-Pakistan |
| Latitude | | | 35°ree; 53′ N |
| Longitude | | | 76°ree; 31′ E |
| Best Climbing Months | | | June, July, August |
| Year First Climbed | | | 1954 |
| First Climber(s) | | | Achille Compagnoni Lino Lacedelli (Italian expedition) |
| Convenient Center(s) | | | Skardu, Pakistan |
| Nearest Major Airport | | | Islamabad, Pakistan |
| Importance | | | 2nd Highest Mountain In The World. |
| Best Trek Season | | | April To October |
K2 is a rocky mountain up to 6,000m, beyond which it becomes an ocean of snow. The traditional route to K2's base camp goes from Skardu, which is linked with Islamabad by a good road. From Skardu the route goes via Shigar-Dassu-Askole up to Concordia over the Baltoro glacier.K2 was firstly discovered and measured by the Survey of India in 1856, and first named for English topographer Henry Godwin – Austen, who explored and surveyed the region.K2 is taken from the first letter of Karakorum, and the number indicates that it was the second peak in the range to be measured. K2 was firstly climbed on July,31 1954 by Italian climbers team lead by Ardito Desio and accompanying him were Lino Lacedelli and Achille Compagnoni. A March 1987 measurement of K2 indicated that it might be higher than Everest, but later that year, Everest was re-measured by a similar method and found to indeed be 778 ft (237m) taller.The Korakoram Range.
Karakorum or Karakoram, mountain range, extending 480-kms, between the Indus and Yarkant rivers, North Kashmir, South central Asia; South Easy extension of the Hindu Kush mountain range. It covers disputed territory, held by China on the north, India on the east, and Pakistan on the west. Karakorum's main range has some of the world's highest peaks, including K2 called Mt. Godwin-Austen, the second highest peak in the world. Karakorum also has several of the world's largest glaciers. Its southern slopes are the watershed for many tributaries of the Indus River. The mountains, which are the greatest barrier between India and Central Asia, are crossed above the perpetual snow line by two natural routes. Karakorum Pass (18,290 ft/5,575 m), is the chief pass on the main Kashmir – China route. Another important pass, Khunjerab (Kunjirap) Pass (15,420 ft/4,700m), is on the Pakistan – China route.
Godwin-Austen, was a English topographer and geologist. An officer in the British army (1851-77), he was assigned to several government surveys in North India, especially among the Himalayas. He explored and surveyed the region of the Karakorum around K2, which is also known as Mt. Godwin-Austen after him.
K2 Expeditions & Attempts
It was probably for the first time in 1902 that an organized expedition of Oscar J.L. Eckenstein traveled to K-2 from Baltoro glacier. The expedition was without any guide. Its aim was to explore approaches to the mountain and possibly have a try on the peak. It was, however, harsh weather which prevented it from attempting the peak.

In 1909, a big Italian expedition under the leadership of resolute Luigi Amadeo Giuseppe (Duke of Abruzzi) the grandson of King Victor Emmanuel II of Italy, reconnoitred K2. Two famous British mountaineers, Harold William Tilman and Eric Earle Shipton, explored and surveyed the north face of K2 and its subsidiary glaciers in 1937.

In 1938, the American Alpine Club sponsored a reconnaissance party for a visit to K2 area. The party reached a height of 7925 meters after setting up eight camps.

The next year saw another American expedition on K2. It was led by Fritz Hermann Ernst Wiessner, a German-American chemist and mountaineer. The expedition, along with nine Sherpas, made very good progress on the already-identified south-east ridge.

Another American attempt on K2 was made in 1953. The expedition leader was Dr. Charles Houston, who had also led the 1938 American expedition on this peak.

In 1954, an Italian expedition came to Pakistan to try its luck on K2. It consisted of twelve climbers and four scientists and was led by veteran mountaineer, Professor Ardito Desio, who had come to these mountains with Italian expeditions before the World War II.
Day 1: Islamabad
Transfer to hotel. Made necessary arrangements
Day 2: Islamabad
Briefing at Ministry of Tourism
Day 3: Chilas
Drive to Chilas. Overnight at hotel
Days 4: Skardu
Drive to Skardu 8-10 hrs drive. Overnight at hotel.
Day 5: Skardu
Rest day and final preparation for expedition.
Day 6: Askole
Drive to Thongal/Askole, overnight at camp.
Days 7: Korofong
Trek to Korofong, overnight in camp.
Day 8: Chobraqk
Trek to Chobraqk, overnight in camp.
Day 10: Urdukas
Trek to Urdukas, 7-8 hours.
Day 12: Concordia
Trek to Concordia, 4-5 hours.
Day 50: Concordia
Trek back to Concordia. Overnight in camp.
Day 52: Low Camp
Trek to Low Camp via the Gondogoro Pass
Day 53: Dalsanga Pa
Trek to Dalsanga Pa. Overnight in camp.
Day 54: Hushe
Trek to Hushe. Overnight in camp.
Day 55: Skardu
Drive to Skardu. Overnight at hotel.
Day 57: Chilas
Drive to Chilas. Transfer to hotel for overnight
Day 58: Islamabad
Drive to Islamabad. Transfer to hotel for overnight
Day 59: Islamabad
Debriefing at Ministry of Tourism. Overnight at hotel.
Please Note:
The above itinerary is not a fixed programme but is intended to give an indication of the likely events during the expedition. Please note that because of the nature of mountaineering on 8,000m peaks, it will be necessary to have a flexible plan in order to take the best advantage of situations as they present themselves. Any changes to the itinerary will be made with a view to maximizing the benefit to the team members and of ensuring their eventual success on the mountain.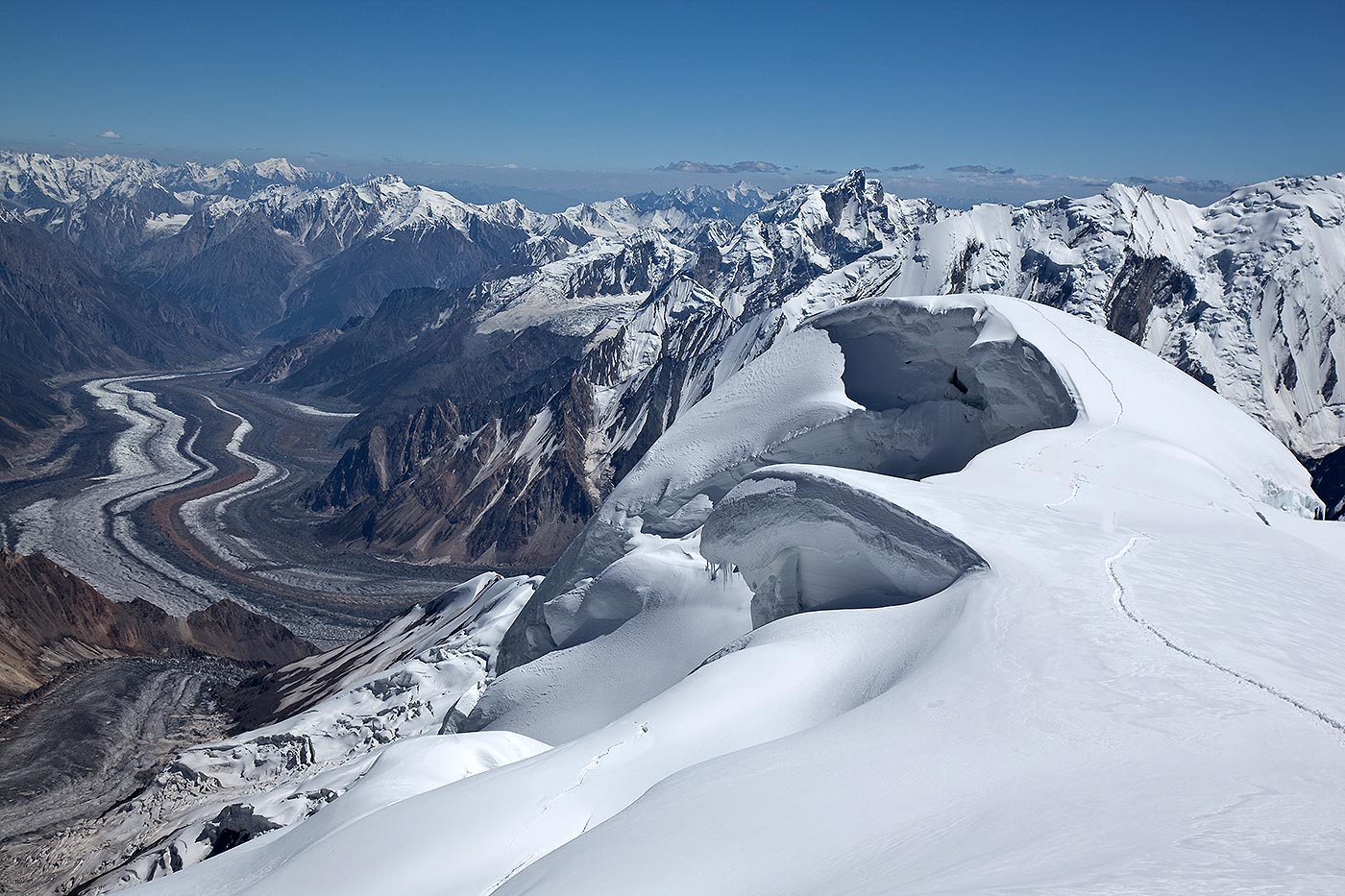 Spantik Peak has 2 different climbing routes. Alexander Klenov and Mikhail Davy climbed the first section of the pillar along the English route and then continued via a new line which required 11 bivouacs overall.
Hidden Peak as translated by the natives means "Shining Wall". Among the six Gasherburn Peaks in the Karakoram range Gasherbrum I is the highest. The Americans were the first to reach its the Autumn of 1958.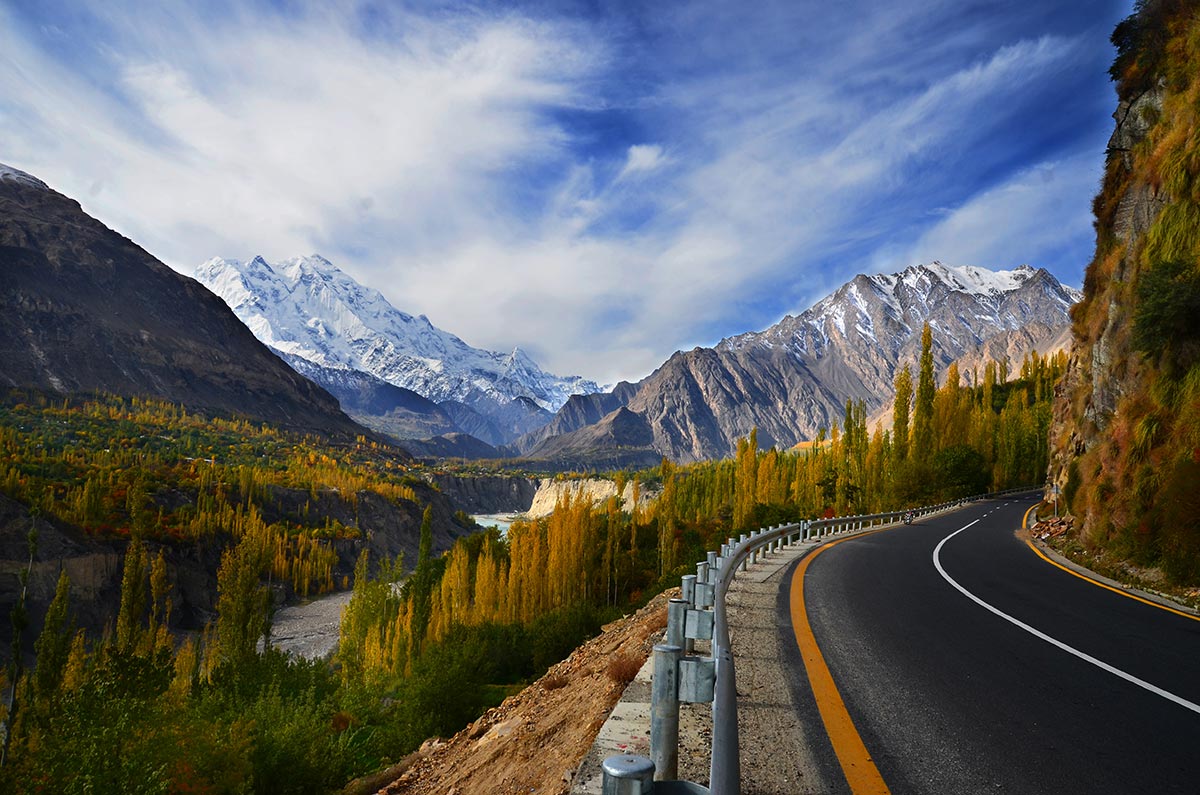 Rakaposhi, is one of the most magnificent peak found in the world today. It is situated near the town of Gilgit and with a height of 7,788m/25,551ft it is easily climbable from all sides.