Gasherbrum II 8080m Expedition
"I am gentle, I am kind bring the kids, don't leave 'em behind" Liver Khan
Gasherbum II lies at the head of the Baltoro Glacier amongst the greatest concentration of high mountains in the world. It was first climbed by S. Larche, F.Moravee and H. Willenpart in 1956. This shining mountain is generally considered the easiest of the eight thousand meter peaks. The Austrians were the first to make its summit back in 1956.
All the existing five routes to the peak begin in the Gasherbum Valley. The Base Camp lies at the junction between the stunning South Gasherbum and Abruzzi glaciers. The mountain itself is pyramid-shaped and is as beautiful as they come. Our approach to the Base Camp is via Skardu town and a week's trek on the Baltoro glacier. Enjoy your Trip with Nanga Parbat Adventure.
Day 1: Islamabad
Transfer to hotel. Made necessary arrangements
Day 2: Islamabad
Briefing at Ministry of Tourism
Day 3: Chilas
Drive to Chilas. Transfer to hotel for overnight
Day 4: Skardu
Drive to Skardu. 8-10 hrs drive. Overnight at hotel
Day 5: Skardu
Rest day and Final Preparation for Expedition
Day 6: Thongal
Drive to Thongal 8-10 hrs drive
Days 8: Bardumal - Paiju
Trek to Bardumal – Paiju, 7-8 hrs.
Days 10: Urdukas
Trek to Urdukas, 7-8 hrs.
Days 12: Concordia
Trek to Concordia, 4-5 hrs.
Days 13: Gasherbrum II Base Camp
Trek to Gasherbrum II Base Camp, 7-8 hrs.
Day 14-40: Climbing
Climbing Period of Gasherbrum II
Day 41-46: Islamabad
Return to Askole or Hushe and Drive to Skardu. Overnight at hotel
Day 47: Islamabad
Fly to Islamabad or Drive to Chilas if flight cancels. Overnight at hotel
Day 48: Islamabad
Debriefing at Ministry of Tourism. Overnight at hotel
Please Note:
The above itinerary is not a fixed programme but is intended to give an indication of the likely events during the expedition. Please note that because of the nature of mountaineering on 8,000m peaks, it will be necessary to have a flexible plan in order to take the best advantage of situations as they present themselves. Any changes to the itinerary will be made with a view to maximizing the benefit to the team members and of ensuring their eventual success on the mountain.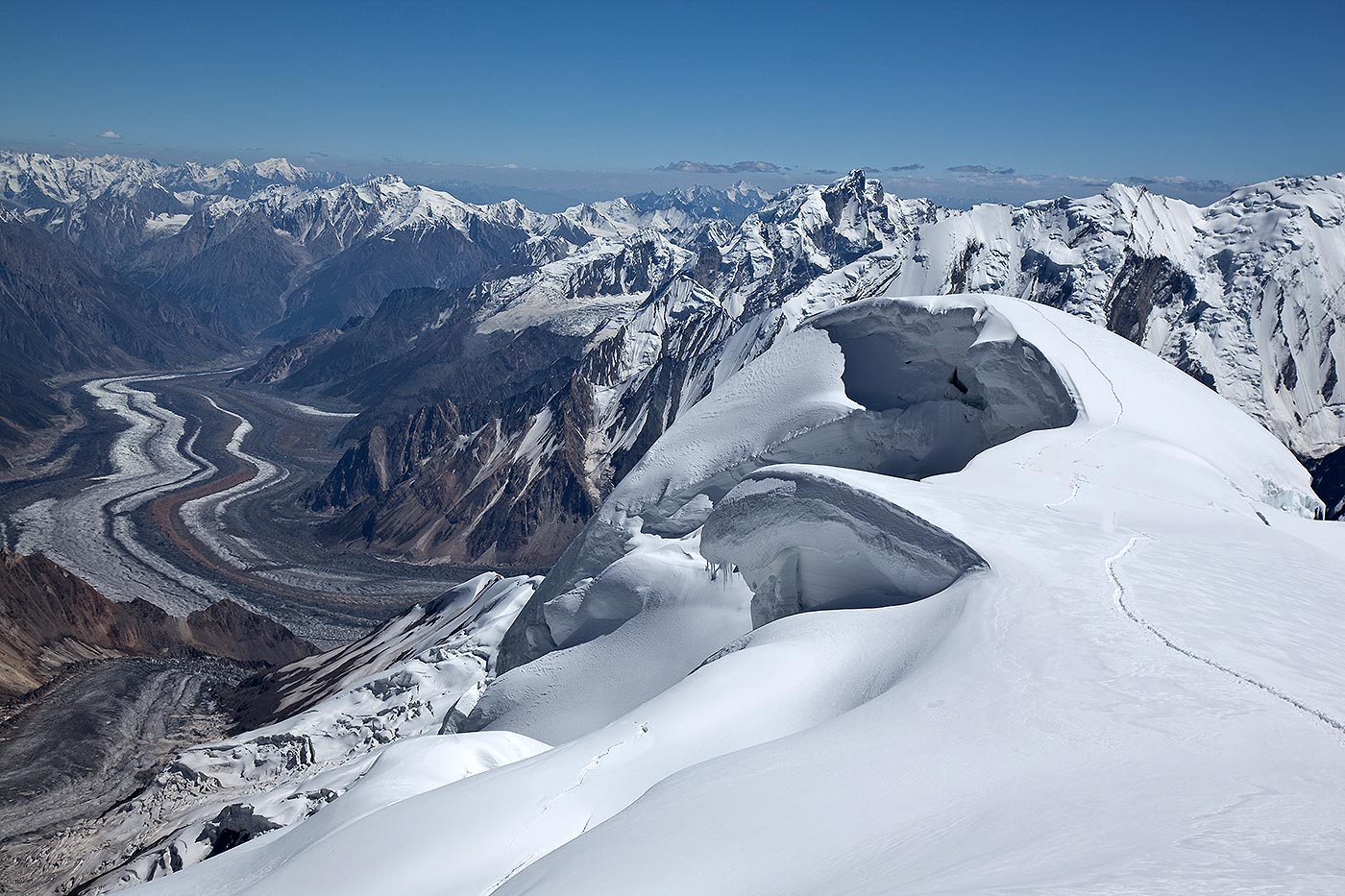 Spantik Peak has 2 different climbing routes. Alexander Klenov and Mikhail Davy climbed the first section of the pillar along the English route and then continued via a new line which required 11 bivouacs overall.
Broad Peak is one of the huge mountains which towers above Concordia at the heart of the Karakoram range. It lies on the Pakistani/Chinese frontier between K2 and the Gasherbrum peaks and was first climbed by an Austrian group in 1957, which included Kurt Diemberger and Herman Buhl.
Hidden Peak as translated by the natives means "Shining Wall". Among the six Gasherburn Peaks in the Karakoram range Gasherbrum I is the highest. The Americans were the first to reach its the Autumn of 1958.